The Original Dixieland Jass Band made the first-ever jazz recording over 100 years ago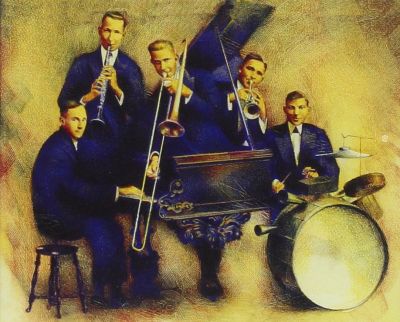 Original Dixieland Jass Band
The
Original Dixieland Jass Band
, also known as the ODJB, were among the pioneers of the new genre that originated in Chicago in the late 1910s. In those days, a few words such as jas, jass, jasz, jaz, and
jazz
were used to describe this style of music which refers to an obsolete slang term meaning spirit, energy, and vigour.
The ODJB—originally formed entirely by New Orleanians—was first spotted in Chicago in 1916. After a stunning success, the band moved to New York the following year where they recorded the first ever jazz composition for the Victor Talking Machine Company.
Prior to their work with Victor, the band had made a recording for Columbia, but the company showed hesitancy in putting out the phonogram, essentially giving up the historical moment of releasing the first jazz record to Victor. It is believed that the composition Livery Stable Blues, which includes the horns imitating barnyard animals, marked the beginning of the jazz age in 1917 by meeting a total and unexpected success.
Listen to Livery Stable Blues by the Original Dixieland Jass Band:
The flip side of the debut jazz record contained a dance piece Dixie Jass Band One-Step which the band themselves considered to be a future hit but, curiously, the first pick of popularity fell on Livery Stable Blues.
Currently, as noted by an American jazz cornetist Jim Cullum, the situation has radically changed:
"Now oddly enough, Livery Stable Blues has completely faded into obscurity and is never played anymore, and Dixie Jass Band One-Step is played by traditional bands all the time."
Listen to Dixie Jazz Band One - Step:
In the wake of their first success, the band launched an overseas tour in England but upon returning home the ODJB discovered that their music was slightly out of fashion in the United States. Still, by adding a trendy saxophone to their arrangements, the band managed to stay afloat until the onset of the Great Depression which stopped most musical movements by the end of the
1920s
.
During its fruitful career, the band presented a lot of jazz standards including At the Jazz Band Ball, Clarinet Marmalade, Jazz Me Blues, and the most famous Tiger Rag which has received about 150 covers to date.
Listen to Benny Goodman Quartet play Tiger Rag:
Although the ambitious opinions claiming the ODJB invented jazz are perhaps exaggerated, the band undoubtedly made a significant contribution to the early-jazz scene which is proven by the performances of their contemporaries who tended to emulate the exuberant music of The Original Dixieland Jass Band.