Pavane for a Dead Princess: who inspired Ravel's early piano piece?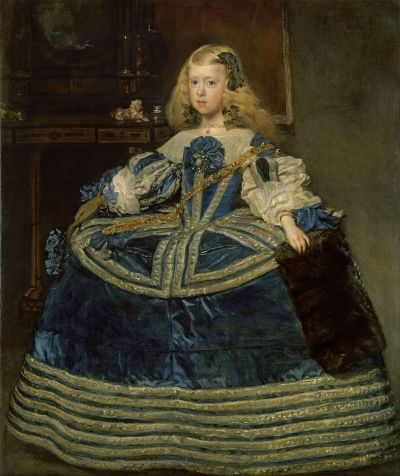 Infanta Margarita Teresa in a Blue Dress by Diego Velázquez
Pavane pour une infante défunte
or
Pavane for a Dead Princess
is a well-known
piano
piece with a leisurely and charming melodic line written in the form of a pavane dance by the French composer
Maurice Ravel
in 1899. At the time, Ravel studied composition at the Paris Conservatory under the influential composer
Gabriel Fauré
who is considered to be a key figure in
the revival of the aristocratic dance
 of pavane.
Widespread throughout Europe during the
Renaissance
and early
Baroque period
, the slow pavane dance was mainly intended to showcase the splendor of the outfits so favored by the nobility. The dance was usually performed by one or two pairs, often by the royal pair to open court balls.
Despite the fact that Ravel dedicated
Pavane for a Dead Princess
to his patron, the Princesse de Polignac, he stated that the piece depicted the pavane as it would be danced by the famous Infanta from the paintings of 
Diego Velázquez
. As for the title itself, there is evidence that Ravel liked the sound of the phrase "infante défunte" and therefore listeners should not look for any funeral motifs in the composition.
The work was first published in 1900, becoming popularized two years later by the outstanding French pianist
Ricardo Viñes
 who performed it at one of his concerts. According to his contemporaries, Ravel played
Pavane for a Dead Princess
at a very slow pace, the fact of which is also confirmed by the preserved recording of the composer performing the piece.
Listen to Pavane Pour Une Infante Defunte performed by Maurice Ravel:
In 1910, Ravel published an orchestration of his pavane in which the melodic line had been assigned to the horn. The premiere took place a year later in England to a positive but somewhat surprised reaction from some critics who found the harmony conventional and somewhat archaic compared to the overall impressionistic style of Ravel's music.