Piazzolla's bandoneón played vital part in the worldwide tango music revival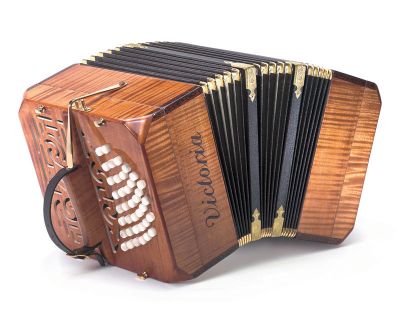 Bandoneón ASTOR
Composer:
Astor Piazzolla
Astor Piazzolla (1921-1992), Argentinian composer known for his brilliant tangos, naturally played bandoneón, the most important instrument in a traditional tango.
When Piazzolla went to study with the famous composition teacher Nadia Boulanger, he'd intended to show her only his classical works. However, it was only when Piazzolla finally performed a tango that she was highly impressed. Thereafter, she encouraged him to always compose tangos, as that seemed to be the style closest to his nature.
Piazzolla expanded upon one of the great popular dance traditions of the Western Hemisphere erasing the line between popular and classical music.
"For me, tango was always for the ear rather than the feet."
Piazzolla reawakened interest in the tango, and his works created a starting platform for a series of tango films, stage productions, and recordings. The key to Piazzolla's popularity was that no matter how much he experimented with the musical palettes of the tango, he never lost touch with its emotional essence.
The popularity of Piazzolla's unique blend of tango, classical music, and jazz continued to grow after his death. Jazz musicians, such as guitarists Al di Meola and Charlie Byrd, and the vibraphonist Gary Burton have used Piazzolla's music in their works.
Gary Burton plays Libertango
Piazzolla's tangos have also been a popular choice for many competitive dance routines, including figure skating, such as this free program of the silver medalist Shoma Uno, choreographed to Buenos Aires Hora Cero: