Tango En Skai: light party atmosphere of Roland Dyens' challenging guitar work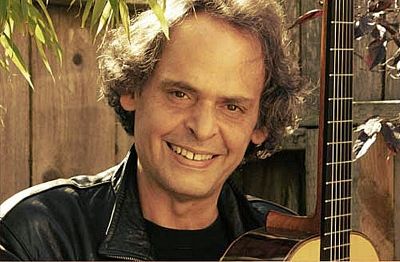 Roland Dyens
Tango En Skai is a popular guitar work by Tunisian-born French composer Roland Dyens whose contribution to the contemporary repertoire of the classical guitar is quite impressive and thematically diverse. With a multi-layered performing technique and deep knowledge of the composition, he has toured extensively worldwide and taught guitar at the Paris Conservatory, influencing many guitarists of the new generation.
Prior to the publication of Tango En Skai in 1985, most listeners considered it to be a pure improvisational theme developed by Roland Dyens at performances. Later, the composer confirmed that he actually set it down. The title, translated from French slang, means "tango in fake leather" which on the one hand refers to the Argentinean gauchos known for their leather outfits and on the other hand explains the somewhat grotesque—and even a little vulgar—style of the composition.
Watch Tango en Skai performed by Roland Dyens himself: 
According to Roland Dyens, this work is associated with a lighthearted and relaxed atmosphere of a party, but even for skilled musicians, performing this tango is a rather difficult task that involves a variety of techniques. Here are the composer's comments on the piece:
I would like to point out that [Tango en Skai] is the archetype of those pieces that seem easy but in fact are quite difficult. It is important to take it lightly, almost as a joke. And I could add that for a joke to work, there should be a hint of malice, of pleasure and brevity. Oh, and I nearly forgot: you have to have a very solid technique to bring it off.
Curiously, to instruct guitarists on the manner of performance, Roland Dyens annotated the score with the phrase Un rien canaille that can be translated as "a little bit naughty".