Preserved tradition in the modern aesthetics of The Breadwinner score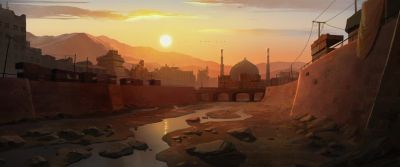 Composer:
Mychael Danna, Jeff Danna
The Breadwinner, directed by Nora Twomey, is an animated drama film based on Deborah Ellis' award-winning novel that tells a story of an Afghan girl born into an ever-changing world of conflict and oppression but it doesn't deter her from finding strength to survive and save her family.
Written by the Canadian brothers Mychael and Jeff Danna, the score is fittingly formed by the Eastern harmonies that respectfully emphasize the story's cultural landscape in which rich heritage is kept alive, fuelling the unyielding spirit of the oppressed in the troubled times.
Short tracks with simple structure give voice to many ethnic instruments from various cultures including Iran, India and China. Set against electronic backdrop, this careful amalgamation draws out the hypnotic nature of traditional melodies, giving the softness of sound rather unusual for the genre.
One of the gentler tracks, Too Old For Stories, gets its tone with the help of a strikingly delicate flute which, unfortunately, rarely appears on the rest of the score:
The first half of Parvana Cuts Her Hair relies on pentatonic chimes, which is structurally consistent with the Chinese tradition, while the second part is led by a hoarse bow: 
The composers also introduce Tabla drums to create momentum for dynamic scenes, diffusing the predominantly slow and lingering sounds with much needed tension.
Each single part of the score often combines contrasting forms to provide a sharp change of mood on the whole, as if mirroring the way a child might perceive volatile surroundings.