Prog rock version of Jerusalem was banned by BBC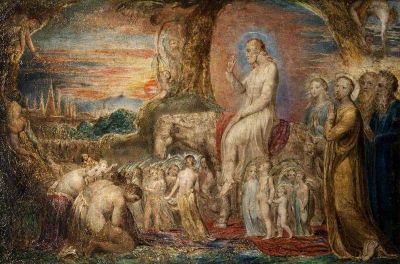 Christ's Entry into Jerusalem by William Blake
Jerusalem is a British national song based on a poem by William Blake printed in 1808. At the heart of the poem is the contrast between the harmonious, peaceful society Blake aspired to and the crushing reality of the rapid industrial transformation of his natural world.
Blake was a radical poet and artist who lived most of his life in poverty and obscurity. Like most Romantics, he wrote and poems that celebrated energy, imagination and freedom, but what separated him from the rest were his incredible artistic abilities that allowed him to illustrate his writings. 
In 1916, the little known Jerusalem was included in the patriotic anthology The Spirit of Man, edited by the poet Robert Bridges, at a time when the national spirit had hit its low due to the high number of casualties in World War I.
Bridges also commissioned composer Sir Hubert Parry to put it to music, asking him to supply "suitable, simple music to Blake's stanzas – music that an audience could take up and join in."
The song was first called And Did Those Feet in Ancient Time, so most of its early scores had this title. Then, in 1922, Sir Edward Elgar re-scored the work for a very large orchestra to perform at the Leeds Festival, and the rest was history.
It is now a popular hymn, sung in churches, schools, and at sporting events across England. For decades, many have considered it to be the unofficial English anthem.
In 1973, progressive rock band Emerson, Lake & Palmer recorded their version of the song, keeping the poem's title Jerusalem. Though released as a single, the song failed to chart, and was banned from BBC airplay.
Drummer Carl Palmer later expressed disappointment over this decision:
"Jerusalem" has a great story attached to it. It was recorded here in the U.K., and we had to present it to the BBC. The BBC had a panel at the time, and they would veto what would be played on the radio and what could be shown on television, so for us to get the single released, it would have to go in front of this BBC panel, which was about four or five people.
He also added:
So "Jerusalem" was recorded by us, and it was banned immediately by the BBC. We thought it was an unbelievable piece of music. It actually summed up prog rock, British prog rock, in that moment in time. It had everything. It was so grand, it was so English, and it was absolutely perfect for the voice."