The Renaissance swan song for the English monarchy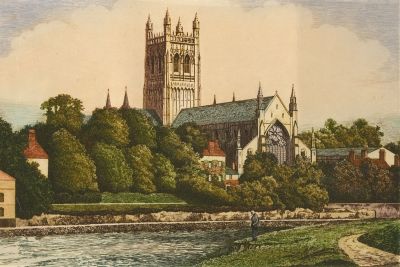 Worchester Cathedral
Thomas Tomkins (1572–1656) was a prominent English composer of the generation that flourished in England in the late Renaissance era.
A pupil of William Byrd, he served as chorister and organist of Worcester Cathedral as well as Chapel Royal in 1621. 
His career as a church musician was cut short by the Civil War and the surrender of Worcester to the parliamentary army in 1646. 
Tomkins was an extremely prolific composer of anthems and services for the church, and his best madrigals rank among the finest produced by the English madrigal school. His keyboard music includes pieces in free fugal forms, variation sets, and dances. He also wrote fine consort music for viols.
Listen to Tomkins' Sad Pavan for These Distracted Times by the clavier maestro Gustav Leonhardt:
The piece was composed by Tomkins shortly after the execution of Charles I, but not on the organ of Worcester Cathedral because not long before, the instrument had been trashed. 
A quarter of a century earlier, Tomkins had composed music for the King's Coronation. Now he had seen everything he held dear destroyed. All that was left was to write the funeral dirge, for his king, and for his life's work.
After the execution of Charles, although Oliver Cromwell was King of England in all but name, he took the title Lord Protector. The monarchy would not be restored until 1660, but the already elderly Tomkins never lived to see it.