Flow, My Tears found popularity after John Dowland gave it lyrics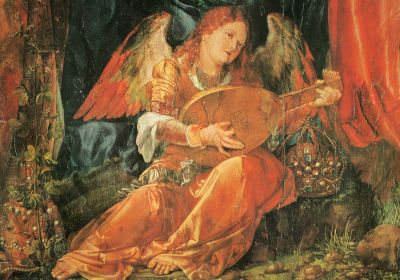 A mural frgament by Albrecht Dürer from the Rosary altarpiece, Germany
Originally composed as an instrumental theme, the lute song Flow, My Tears was created by the English Renaissance composer John Dowland. Most likely, that the lyrics were written specifically for music by Dowland himself.
Dowland remade his lute Lachrimae Pavane as a song, and its sorrowful melody permeated Elizabethan culture, with the motif appearing in the arrangements of Byrd and Morley, and the lyrics cited by the poets Webster and Ben Jonson.
The song was published by Downland in his Second Booke of Songs, which contains 22 songs that are generally sung by a solo voice with accompaniment lute. 
Here is the awesome
Flow, my tears
performance by
Andreas Scholl
who is one of the world's best-known Baroque countertenors:
The vocally modernized
Sting
version is a reminder that the song is not a museum piece:
Lyrics:
Flow, my tears, fall from your springs!
Exiled for ever, let me mourn;
Where night's black bird her sad infamy sings,
There let me live forlorn.

Down vain lights, shine you no more!
No nights are dark enough for those
That in despair their last fortunes deplore.
Light doth but shame disclose.

Never may my woes be relieved,
Since pity is fled;
And tears and sighs and groans my weary days, my weary days
Of all joys have deprived.

From the highest spire of contentment
My fortune is thrown;
And fear and grief and pain for my deserts, for my deserts
Are my hopes, since hope is gone.

Hark! you shadows that in darkness dwell,
Learn to contemn light
Happy, happy they that in hell
Feel not the world's despite.