Sakhawat Hussain's sarod cast a magical spell rooted in the Afghan rubab traditions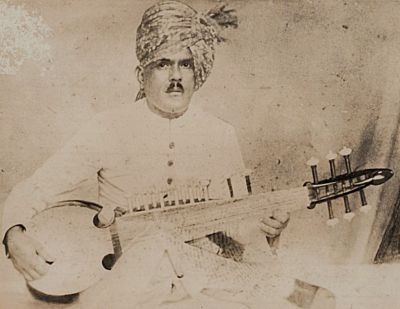 Sakhawat Hussain
Piece of Music:
Piloo Thumri raag
Gharana:
Lucknow-Shahjahanpur
Sakhawat Hussain Khan
was an Indian musician whose outstanding performing technique on
sarod
could serve as a starting point for tracking the journey this classic instrument has undertaken from Afghanistan to India. Indeed, many scholars of Indian classical music believe that the sarod is an evolution of the Afghan
rubab
which has changed over time under the influence of the oldest Indian instrument
veena
.
As a descendant of Afghan musicians who migrated to India in the early 18th century, Sakhawat Hussain was trained by his father in this particular style of sarod playing. The technique focused on speed motions of the right hand is still in the spotlight for training sarodists of Lucknow-Shahjahanpur gharana.
Sakhawat Hussain was 44 years old when his performing skills were recognized as outstanding during the
3rd All India Music Conference
held in Varanasi in 1919. Shortly thereafter, he became a professor of
sitar
and sarod at Bhatkhande Music College at Lucknow. He was one of the first to introduce sarod in Europe when in the
1930s
he joined the ballet group of Indian classical dance as the chief musician.
One review of the troupe's performance in Munich noted:
"The prelude to the performance was an 'unending melody' on the sarod—a melodious string instrument played by Ustad Sakhawat Hussain Khan. The sarod created a magical spell and took audience to the exotic East."
Watch Sakhawat Hussain Khan perform Piloo Thumri raag:
Sakhawat Hussain himself believed that he had reached this level of performing technique and widespread recognition due to the fact that the musicians of his "lineage have been the custodians of the sarod, rabab, and sursingar from Mughal times, whose branches have spread all over the land of India."