Scarlet Begonias: three major Mixolydian chords in a Grateful Dead's ballad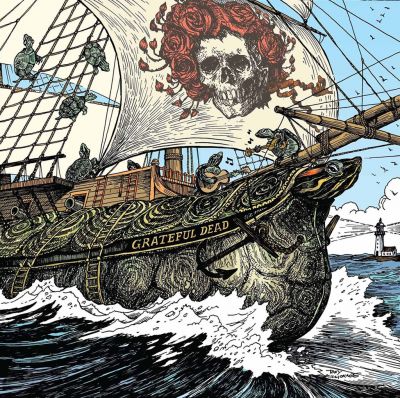 Grateful Dead's LP cover
Scarlet Begonias
,
released in 1974 by the American rock band
Grateful Dead
, is still widely regarded as one of their best tracks, at least according to their fanbase. Over the past decades, the song has been performed more than three hundred times, often featuring lengthy improvisations, especially in tandem with
Fire on the Mountain
.
Written by lyricist
Robert Hunter
and guitarist-vocalist
Jerry Garcia
, the song originally contained a higher number of stanzas than the canonical six and was subsequently shortened for reasons still unknown.
The Scarlet Begonias lyrics tell a story of a chance meeting in which the narrator and their new romantic interest disguise their flirting as a poker game with purely conventional bets. Later, Hunter revealed that the song is about his wife, Maureen, who lived in Bristol, England at the time so he often travelled overseas to visit her. That is why Hunter set the song in Britain with the nursery rhyme opening of "as I was walking" while also mentioning London's Grosvenor Square and The Wind in the Willows—the famous children's book by Kenneth Grahame.
Listen to Grateful Dead's Scarlet Begonias / Fire on the Mountain (Live in Hamilton, Ontario, 1990):
Compositionally, all sections of
Scarlet Begonias
—except for the bridge—follow the canons of the tonal theory, namely the
Mixolydian mode
which is widely used in rock music despite its modal status. The harmonic analysis of the song's chord chains (denoted with Roman numerals) shows the following progressions in B Mixolydian:
B–E–B–A–B or I–IV–I–VII–I;
B–A–E–B or I–VII–IV–I.
The track generates a predominantly major mood since it involves only three major chords of the Mixolydian mode. The choice to perform it in a medley with Fire on the Mountain can be easily explained by their usage of the same key and similar harmonic structures.
Indeed,
Fire on the Mountain
is accompanied by the simple alternation of
B
and
A
triads rooted in the
first
and
seventh
degrees of the Mixolydian scale. This technique finds its application in many rock songs including 
The Beatles
' 
If I Needed Someone
, 
The Doors
'
L.A. Woman,
and Grateful Dead's 
Dark Star 
as follows from
this article
.
Discover more songs composed in Mixolydian major mode and check out their harmonic analysis in the following articles: