Sirtaki: folk dances arranged by Mikis Theodorakis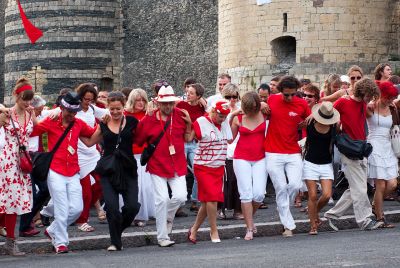 Sirtaki flash mob at Accroche-Cœurs festival
The
Sirtaki
dance—a lively and energetic expression of
Greek
culture—has become an iconic image associated with the country. Remarkably, this captivating dance is a modern creation credited to
Mikis Theodorakis
, a highly accomplished Greek composer and lyricist renowned for his extensive body of work consisting of over 1,000 compositions.
Blending the graceful and slow movements of the hasapiko dance with the lively and energetic zeibekiko dance, the Sirtaki offers a captivating fusion of folk styles. Typically performed in a line or circle formation, participants hold onto their neighbors' shoulders as they embark on the dance. Starting off slowly, the tempo gradually escalates often accompanied by spirited hops and leaps.
The Sirtaki dance's choreography was meticulously designed for the cinematic masterpiece
Zorba the Greek
 in 1964. This momentous task was entrusted to
Giorgos Provias
—a gifted Greek dancer, actor, and choreographer. Based on the novel by
Nikos Kazantzakis
, the film tells the story of the unlikely encounter between Basil, an English writer characterized by his reserved nature, and the vivacious Cretan peasant Zorba brought to life by the iconic
Anthony Quinn
.
It is in the climactic final scene that Quinn's character mesmerizes viewers as he gracefully performs the Sirtaki dance on the picturesque beach of the village of Stavros.
Watch the final scene from Zorba the Greek:
Highlighting its immense popularity and cultural significance, the Sirtaki has earned itself a prestigious position in the Guinness World Records. This achievement was realized on June 23, 2007, in Kalamata, Greece, where an astonishing 5,614 participants congregated to synchronize their movements and perform the Sirtaki dance simultaneously.