Stephen Hawking's message immortalized through the sound of modern pop culture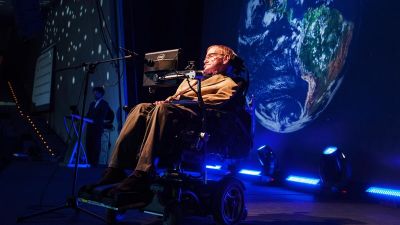 Stephen Hawking
Great late Stephen Hawking is known for his extensive work in the fields of quantum physics, focusing on general and quantum relativity. He wrote a number of popular science books, including The Universe in a Nutshell and A Brief History of Time in which he presents concepts such as the big bang theory in an accessible fashion. 
Hawking suffered for most of his life from amyotrophic lateral sclerosis, also known as ALS or Lou Gehrig's disease. ALS typically kills sufferers within the first few years, but Hawking survived the disease for decades.
While the works of classical composers helped him deal with a rare and gradually paralyzing disease, he retained an interest in popular music. 
When asked about having attended a Depeche Mode show, Hawking once said: 
"It was a great concert, they had real energy. I don't think many people would have expected to see me there but I'm very glad I went, even though I was sitting just in front of the speakers and my ears were ringing for the next 24 hours. (...) I try to make it to a pop concert every now and again. I have also seen Pink Floyd and Tracy Chapman while I was in the U.S.A. And Status Quo...but I left after 20 minutes – they were terrible."
Hawking also helped shape the works of some rock artists over the years. His distinctive voice—channeled through a speech-generating device he controlled with a cheek muscle—showed up in songs by Pink Floyd and U2.
His voice can be found on the Pink Floyd track Talkin' Hawkin'. David Gilmour chose to sample Hawking originally after he saw the British Telecom advert.
Gilmour describes his inspiration:
"This was the most powerful piece of television advertising that I've ever seen in my life, I don't think he even wrote the words that they used with him, but … he was in it, in his wheelchair. He looks kind of strange. And I just found it so moving that I felt that I had to try and do something with it, or with him or something, in some way."
Drummer Nick Mason told The Sun:
"On one level, it's Stephen Hawking having a problem communicating and yet the sound of that voice is positively interstellar. He can communicate across galaxies with that sound."
It wasn't the first time that Hawking's sample was used by Pink Floyd, however, with their first inclusion being the one in the 1994 LP The Division Bell. It can be heard in "spoken" lines of the song Keep Talking just before the opening verse, then again before the guitar solo, and once more toward the end of the song:
The Irish band U2 also had a working relationship with Professor Hawking for many years and they paid tribute to him with a video from their Innocence & Experience Tour. 
Hawking noted:
"The Edge [U2 guitar man] came to my 60th birthday party in Cambridge and sang happy birthday to me! I'm very pleased to have been able to sing back to him by accompanying U2 on their Innocence tour."​
Here is Stephen Hawking's famous It can be done message:
"When we see the Earth from space we see ourselves as a whole. We see the unity, but not the divisions. One planet, one human race. We are here together and we need to live together with tolerance and respect.

Our only boundaries are the ways we see each other. We must become global citizens. Our voices are important. We give our elected officials their power, but we can take it away.

We travel all the time, traveling together in the future. But let us make that future a place we want to visit.

Be good. Be determined. Overcome the odds. It can be done."