Swedish Rhapsody variations for electric guitar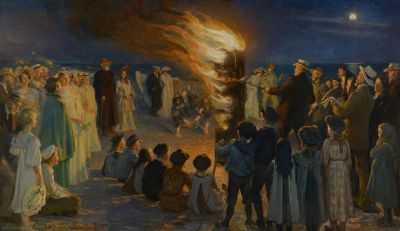 Midsummer Eve bonfire on Skagen's beach by P.S. Krøyer
The painting Midsummer Eve bonfire on Skagen's beach is a tribute to the artist colony in Skagen by Peder Severin Krøyer.
The scene depicts the gathering of all the representatives of the artist colony, members of the town's bourgeoisie, as well as some of the residents of Skagen, in a large circle around the Midsummer eve bonfire on Skagen Sønderstrand. 
The red flame is blowing over towards Swedish composer Hugo Alfvén (1872–1960), with the painter Krøyer's wife Maria on his arm, leaning on a fishing boat. Alfvén himself, in addition to music, actively engaged in painting.
A Stroll on the Beach by Michael Ancher: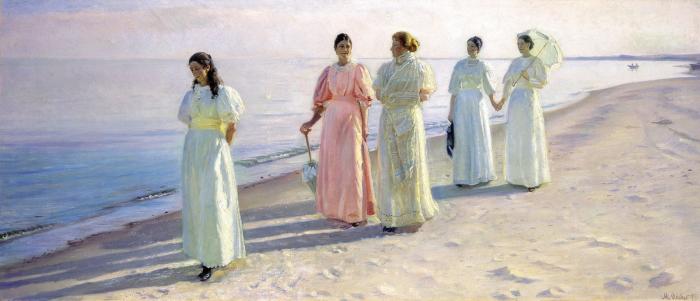 Hugo Alfvén is considered to be Sweden's national composer, even though he never gained the international reputation of his fellow Scandinavian composers
Edvard Grieg
(Norway),
Jean Sibelius
(Finland) or
Carl Nielsen
(Denmark).
Initially trained as a violinist, Alfvén soon became a sought-after conductor in his homeland. In 1910 he was appointed Music Director of the University of Uppsala. For many years, he also undertook the direction of the traditional male voice choir Orphei Dränger (Sons of Orpheus). 
Central to Alfvén's works are four harmonically demanding symphonies. Whereas in his symphonies he abandoned the use of folk elements, he consciously used them in his three Swedish Rhapsodies.
Alfvén is probably best known outside Sweden for his Swedish Rhapsody No. 1. Subtitled Midsommarvaka (Midsummer Vigil), this portrait of a Swedish summer makes use of several Swedish folk songs. The work was among the first compositions by Alfvén to do so. This was followed by two further Swedish Rhapsodies—Uppsala Rhapsody and Dalecarlian Rhapsody. 
Listen to an unexpected electric guitar variation of Midsommarvaka by Chet Atkins:
The most recorded solo instrumentalist in history, the quiet unassuming Chet Atkins was initially an aspiring vocalist. With more than 100 albums to his credit, covering all styles of music, he has been a major influence on guitar players such as George Harrison, Albert Lee, Eric Clapton, and thousands of more guitar-ace wannabes.
Chet noted on his 1956 album Finger Style Guitar:
"Swedish Rhapsody, one of my all-time favorite tunes. My Father used to play this on his guitar. Such a happy tune."
Paul McCartney and Mr. Guitar (Chet Atkins):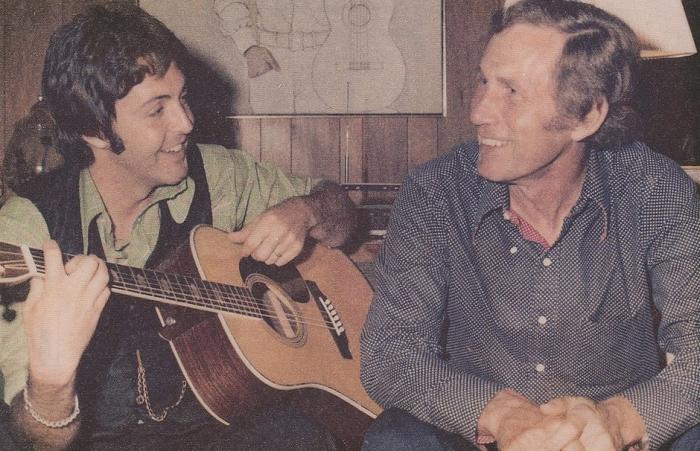 To be universally recognized as Mr. Guitar is as high an accomplishment as possible in the country music world. Certainly, country music could claim him, but Chet Atkins was no less respected in the realms of rock'n'roll, folk, jazz or classical music. Not only did his records sell well all across the world, but he also designed guitars for Gibson and Gretsch.