The transcendental experience behind classical orchestras conducted by Sergiu Celibidache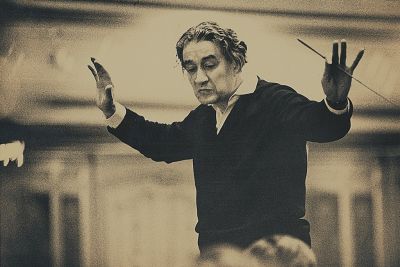 Sergiu Celibidache
Sergiu Celibidache was a Romanian composer, musical theorist, and one of the most innovative conductors of the 20th century. Notable for his distinctive performance style, Celibidache always strove to take listeners through "transcendental experience," and his fascination with Zen Buddhism was reflected in the odd manner he chose to perform classical music in an attempt to express the many aspects of this philosophical worldview.
Celibidache believed that playing his music outside the acoustic space where it was performed could not immerse listeners in a transcendental environment so he was quite negative towards any potential recording and release of his performances. Still, many orchestras conducted by Celibidache were recorded and released after his death, giving the audience an idea of ​​that meditative orchestral atmosphere and the unusually slow performance of classical music masterpieces.
Celibidache received a comprehensive musical education in Bucharest, Paris, and Berlin where he also immersed himself in philosophy and formed his worldview based on Zen Buddhism. Comparing his musical knowledge with the teachings of Zen, he discovered that music, like nothing else, implements one of the main principles of Zen philosophy:
"All I can say is that without Zen I couldn't have known this strange principle that the beginning is the end. Music is nothing but the materialization of this principle."
Having written just a few original works, Celibidache concentrated on his conducting career which led him to manage several important European orchestras at various times of his life, including
Berlin Philharmonic
and Munich Philharmonic. He preferred to conduct well-known 
Classical
and
Romantic
pieces, reworking the familiar rules of the performance into something aesthetically new and avoided most contemporary music, especially the works of Arnold Schoenberg. Celibidache viewed Schoenberg's atonal twelve-tone system to be rather stupid and predicted its quick fall into obscurity.
Listen to Finale of Beethoven's Symphony Eroica performed by Sergiù Celibidache with Münchner Philharmoniker:
Curiously, the only work recorded at the initiative of Celibidache himself was his orchestral suite for children, Der Taschengarten (The Pocket Garden), which was never performed at concerts and its score never published.