Vasantrao Deshpande's musical career sparked by Begum Akhtar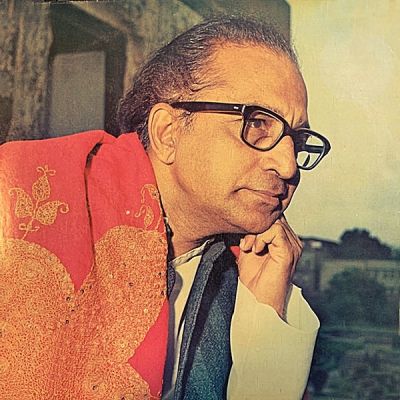 Vasantrao Deshpande LP
Vasantrao Deshpande
was an eminent Indian artist best known for his contributions to vocal classical music and the Marathi theater. In addition, he was an excellent harmonium and
tabla
musician, while also lending his voice to a number of Marathi films as a playback singer.
It is surprising that having such vast musical talents, Vasantrao Deshpande was not a professional musician for most of his life. Born in 1920 into a fairly wealthy farming family, he was later forced to leave his home as a boy when his father died and the family's income plummeted to negligible levels.
Together with his mother, Vasantrao Deshpande moved from the countryside to Nagpur where his vocal talent was discovered by a lucky accident. He got his first musical practice when he sheltered from the rain under the canopy of a music school and. Fascinated by the sounds of Raga Bhopali, the boy began to repeat the melody, arousing the attention of the teacher who would become his first music guru.
Listen to Main Kaise Aaoon Balma set in Raga Khamaj by Vasantrao Deshpande:
Subsequently, Vasantrao Deshpande studied under a number of prominent musicians, developing a universal style by absorbing the techniques of different gharanas. Nevertheless, he could only engage with music as a hobby since for the majority of those 20 years he had to work as a clerk to provide income for himself and his mother.
It was only in 1966 that significant changes came to his life when, thanks to the efforts of the prominent singer and actress
Begum Akhtar
, he became a full-time professional musician. Long before that moment, Begum Akhtar had been impressed by the vocal gift of Vasantrao Deshpande, who'd once visited her Lucknow's home with his then guru
Aman Ali Khan
. Deeply affected by the vocal technique and emotionality in Vasantrao Deshpande's performance, Begum Akhtar bluntly asked, "Why are you wasting your time and talents in that drab job?" Undoubtedly, it was her patronage and perseverance that played a decisive role in the start of Vasantrao Deshpande's professional musical career.