Venetian architecture sparked a new musical era in Europe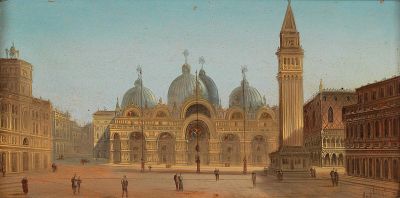 St Mark's Square and St. Mark's Basilica by August von Siegen
Composer:
Giovanni Gabrieli
Giovanni Gabrieli was one of the most influential musicians of his time, representing the culmination of the Venetian School style during the shift from Renaissance to Baroque idioms in music.
His exact birthdate is unknown, but scholars have narrowed it down to between 1554-56. He lived in Venice his whole life and was an organist at St. Mark's Basilica from 1585. Gabrieli was an early experimenter in chromatic harmony and one of the first composers to combine choral forces with orchestral instruments. 
St. Mark's Basilica had had a long tradition of musical excellence which tended to bring attention to anyone working there, Gabrieli himself no exception. The vogue which began with his influential works was such that composers from all over Europe, especially from Germany, came to Venice to study.
Hans Leo Hassler,
Heinrich Schütz
, Michael Praetorius and others helped introduce the transitional early Baroque music to Northern Germany, an event which was decisive in subsequent music history. The productions of the German Baroque, culminating with the music of
J.S. Bach
, were founded on this strong tradition originally rooted in Gabrieli's Venice.
Gabrieli's instrumental works for brass were particularly brilliant. Listen to Sonata XIII performed by Empire Brass:
In Gabrieli's time, St. Mark was an enormously wealthy church, and everything was done on a large scale with the intent to impress. The church was unique in having two choir lofts and two organs that faced each other. This unusual arrangement encouraged St. Mark's composers to experiment with sound. 
The Venetians called this type of music cori spezzati or separated choirs. It opened up new compositional techniques, such as antiphonal music. In antiphonal music, one choir sings the first part of a phrase, then the other choir answers back with the rest of the phrase in a call-and-response fashion. Composers could also make use of the natural echo. St. Mark was so large that the resonance and reverberation became a part of the composition, literally surrounding the congregants with sound.
Interior of St Mark's Basilica by Wyke Bayliss
: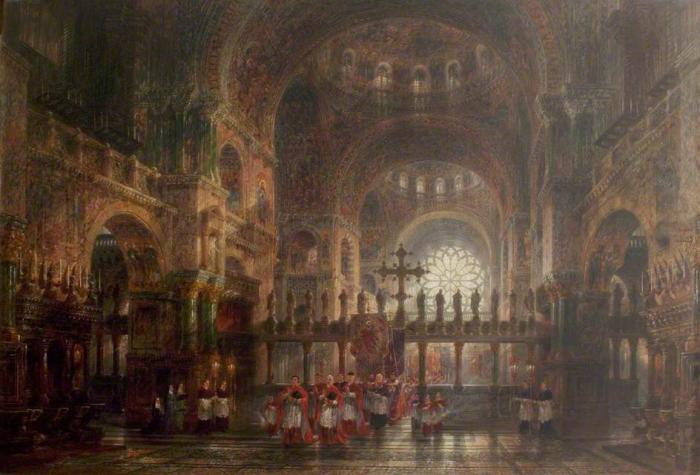 Gabrieli made good use of these hallmark qualities: where his predecessors used two choirs, he employed four, five, possibly as many as seven choirs in his music. He spaced his performers all around St. Mark, employing the acoustics to carefully balance different instruments with the voices. 
Around 1606, Gabrieli suffered from a kidney stone that reduced his activities and eventually led to his death in 1612.
Towards the end of both his life and career, the composer's great achievements earned him a change of title, from Ser Giovanni Gabrieli to a much more revered Il Magnifico signor.