Vivaldi's Bohemian Concerto was the last gift for the dying lute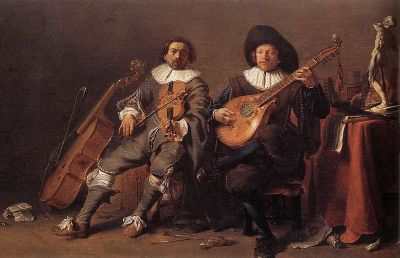 The Duet by Cornelis Saftleven
Composer:
Antonio Vivaldi
Within
Antonio Vivaldi
's creative period, the lute was going out of fashion as the lead solo instrument, though its virtuosity still shines in the suites of J.S.Bach and the solo pieces by
Silvius Weiss
. 
During his European period in 1730s, Vivaldi wrote a set of lute works including The D major Concerto for strings and solo lute. This piece, written in Bohemia, is rich with both arpeggios and chord lute passages.
For centuries, many lute works had been kept alive through transcriptions for classical guitar which eventually experienced a magnificent boom in the 20th century that coincided with the beginning of the sound recording era.
Listen to the Largo from D major Concerto performed by guitar maestro John Williams with Orquesta Sinfónica de Sevilla:
Today, lute music is getting a revival, gaining more and more fans both from musicians and listeners. In many ways, this process was initiated by the guitar maestro
Julian Bream
in the 1950's.
Watch Vivaldi's concerto performed with solo lute by Tafelmusik Baroque Orchestra: