Beatles songs composed with just three primary chords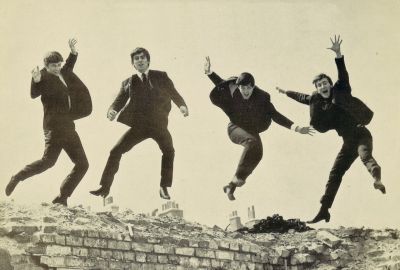 The Beatles' Twist and Shout single cover
The harmonic analysis of The Beatles' output reveals their particular devotion to the Ionian mode, which is found in fifty of their songs, and nine of those tracks are written using just three primary chords.
G–C–G–D or I–IV–I–V;
G–C–D7–G or I–IV–V7–I.
G–C–D–G or  I–IV–V–I;
G–C–G or I–IV–I.
The two following songs are built on a nearly identical looping progression, in which the juxtaposition of subdominant and dominant chords produces a harmonic tension resolved by the tonic chord:
Dig It: in F Ionian F–B♭–C–B♭ or I–IV–V–IV;
Don't Pass Me By: in C Ionian C–F–G7–F–C or I–IV–V7–IV–I.
G–C–G7 or V–I–V7 for verses;
G–F–G7–C or V–IV–V7–I for verses;
G–C or V–I for choruses.
G–C–D–G or  I–IV–V–I for lines 1, 3, 4;
G–C–G or  I–IV–I for line 2.
Similar progressions are seen in the choruses:
C–G or I–IV for lines 1, 2, 3;
C–D–G or IV–V–I for line 4.
As you can see, the songs with three primary chords of the Ionian mode tend to be lively, cheerful, even mischievous. They often have a playful subtext as their harmony contains no minor chords and generates a more positive mood. Below are three more Beatles songs with three-chord verses and more developed Ionian-mode progressions popping up in other song sections.
A–D7–A or I–IV7–! for lines 1-5;
E7–D7–A–D7–A–E7 or V7–IV7–I–IV7–I–V7 for lines 6-8.
By implementing all three minor chords of the Ionian mode, this progression stands in stark contrast to the rest of the song:
B7–Em–Am–Bm–G7 or V7/vi→vi–ii–iii–I7;
B7–Em–Am–Bm–D or V7/vi→vi–ii–iii–V.
B–E–B–F♯7–B or I–IV–I–V7–I for verses;
E–B–

C♯

–F♯ or V–I–V7/V→V for bridges.
In conclusion, it is worth noting that The Beatles' repertoire includes a number of covers composed with only three primary chords. Here is an abridged list:
Everybody's Trying To Be My Baby
Bad Boy
Boys
Dizzy Miss Lizzy
The Hippy Hippy Shake
Kansas City/Hey-Hey-Hey-Hey!
Long Tall Sally
Money (That's What I Want).
Explore how The Beatles use other musical modes in our articles:
Discover more songs composed in Ionian major mode and check out their harmonic analysis in the following articles: