Statesboro Blues: no one can sing the blues like Blind Willie McTell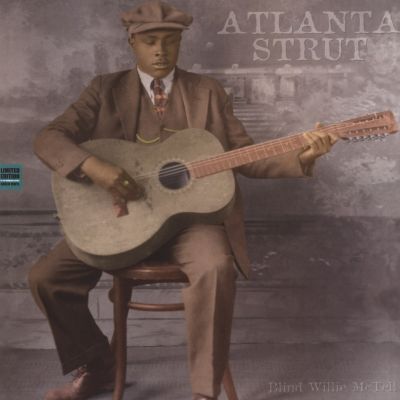 Blind Willie McTell LP cover
Bob Dylan
's track
Blind Willie McTell
is perhaps the best tribute to this outstanding traveling street artist who has recorded about five dozen songs under various nicknames over several decades starting in the
1920s
. Indeed, hardly anyone has reason to disagree with Dylan who emphasizes the originality of this not-too-famous blues singer by finishing each verse of the song with the laudatory "I know no one can sing the blues like Blind Willie McTell".
Blind Willie McTell
sang in an unusually high register for the genre in combination with a deep vibrato, while his humorous cheerful inflexions, woven even through the minor harmonies, set him apart from his peers. He invariably accompanied himself on a twelve-string guitar, skillfully combining blues techniques with popular ragtime rhythms.
Statesboro Blues
is undoubtedly Blind Willie McTell's best-known track, although it doesn't stand out in any way from the other songs preserved as his heritage and the only viable reason for such distinguishment is the sheer number of influential covers the song has undergone in the
1960s
and
1970s
. McTell performs the song using three primary major chords in the key of C major and pays homage to his hometown in a typical blues stanza where the second line varies very little from the first line and the semantic development is concentrated in the closing third line. According to music history researchers, the lyrics of the
Statesboro Blues
are not autobiographical as the song was supposedly compiled from common blues themes found in the repertoire of any artist of the genre at the time.
Listen to Statesboro Blues by Blind Willie McTell:
It seems that the first cover of the
Statesboro Blues
did not appear until 1965 when an electric version of the song was recorded by
Taj Mahal
with
The Rising Sons
, a band that included now-famous slide guitarist
Ry Cooder
. A year later, folk singer
Dave Van Ronk
released his fully acoustic version of the
Statesboro Blues
, and perhaps the most famous cover was recorded by
The Allman Brothers Band
at the very beginning of the next decade.
Discover more songs composed in Ionian major mode and check out their harmonic analysis in the following articles: