Fantasiestucke: three famous piano opuses by Robert Schumann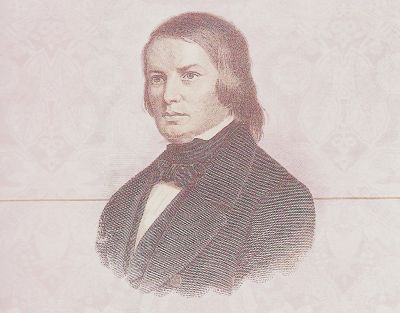 Robert Schumann
The influential German composer
Robert Schumann
repeatedly used the title
Fantasiestüske
as a thematic description of a style in some of his piano works. This poetic name promotes the fundamental notion of the
Romantic period
 which states that creative expression is the product of the artist's unrestricted imagination.
Reportedly, Schumann borrowed the title from Fantasiestücke in Callots Manier, a collection of novellas, essays, treatises, letters, and writings about music penned by one of his favorite authors  E. T. A. Hoffmann in the period between 1814 and 1815.
Hoffman conceived 
Fantasiestücke
 after encountering a series of extravagant engravings which left a strong impression on him. Extremely popular at the time, the engravings, entitled 
Balli di Sfessania,
 were published by the French
Baroque
printmaker and draftsman
Jacques Callot
after his twelve-year stay in Italy. 
Capitano Cerimonia and Signora Lavinia
by Jacques Callot:
In 1837, Schumann wrote a series of eight
piano
pieces under the general title
Fantasiestücke
which he dedicated to Fräulein Anna Robena Laidlaw, an accomplished Scottish pianist with whom Schumann had become good friends. In these short fantasies, constructed primarily in binary or ternary form, Schumann juxtaposes the emotions of two virtual characters Florestan and Eusebius representing the duality of his personality. Eusebius depicts the dreamer in Schumann while Florestan represents his passionate side.
Listen to Schumann's
Des Abends (In the Evening)
from
Fantasiestücke, Op. 12
performed by 
Sviatoslav Richter
:
Drei Fantasiestücke (Three Fantasy Pieces) is the next known fantasy-oriented work by Schumann. He composed the piece just in two days in February of 1849. This three-part duet for clarinet and piano was premiered by Clara Schumann and the Dresden clarinetist Johann Gottlieb Kotte in the same month. The fantasies were originally titled Soirée Pieces but the composer soon changed the title to emphasize its poetical aspects. 
Listen to Schumann's Zart und mit Ausdruck (Tender and with Expression) from Drei Fantasiestücke, Op. 73 perfomed by Louis Cahuzac and Folmer Jensen:
Curiously, Schumann indicated in the manuscript that the clarinet part could be played on a violin or cello, although currently 
Three Fantasy Pieces
 interest various soloists who perform the duo with a
flute
,
oboe
, or
bassoon
accompanied by piano.
Listen to Schumann's 
Lebhaft, Leicht (Lively, Light)
from 
Drei Fantasiestücke, Op. 73
perfomed by 
Jacqueline du Pré
and Gerald Moore:
In 1850, Schumann finished another
Fantasiestücke
 which was composed in the very popular
piano trio
genre. The three-piece collection was clearly designed for domestic performance by amateurs, and Schumann himself drew attention to its more delicate nature in comparison with his other chamber works for piano and strings.
Listen to Schumann's Romanze from Fantasiestücke, Op.88 perfomed by Beaux Arts Trio:
Today, the first series of eight Fantasiestücke, Op. 12 is considered Schumann's most influential piano work which attracts the attention of both beginner pianists and sophisticated musicians.