Fiery dances of Marco Uccellini from Forlimpopoli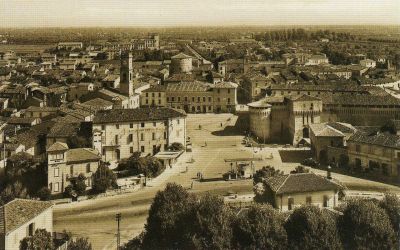 Forlimpopoli
Forlimpopoli is a tiny Italian town located on the Romagna plain, at the foot of the Apennines. Founded by Romans in the 2nd century BCE and crossed by pilgrims heading to Rome during the Middle Ages, Forlimpopoli had accumulated quite an eventful history.
It seems that every Italian settlement in the Baroque era had its own star composer, and Forlimpopoli is no exception. Today it is mostly known as the birthplace of the brilliant violin maestro Marco Uccellini (1603 or 1610 – 1680).
As is the case with most early Baroque composers, the details about Uccellini's life and career tend to be skimpy at best. He was born into an affluent noble family in Forlimpopoli, who had owned land in the area since the early 14th century. 
The composer held two major positions during his life. They included choirmaster for the Este court at the cathedral in Modena after his settlement there and later a similar position with the Farnese court in Parma. 
Uccellini composed operas, ballets, and instrumental works but none of the ballets and operas have survived. Genres within his instrumental works include sinfonias, sonatas, and dances and are included in seven different collections.
It can be assumed from the virtuosic nature of Uccellini's violin compositions that he was himself a brilliant violinist. Besides introducing several technical innovations necessary to play his difficult scores, he was an early popularizer of music written explicitly for solo violin and continuo.
The British violinist Andrew Manze offers this assessment:
"Uccellini's pioneering spirit led him to seek new colors, explore strange keys, and to boldly go higher than any violinist had gone before."
Listen to Uccellini's Aria Sopra La Bergamasca for two recorders, violoncello, ceterone and harp performed by Giovanni Antonini with Il Giardino Armonico:
Il Giardino Armonico is a pioneering early Italian music ensemble founded in Milan in 1985 by Luca Pianca, Giovanni Antonini and Paolo Beschi. It is generally considered one of the most creative and best Baroque ensembles.