Chu Berry: finest tenor sax voice of the '30s silenced by fatal car crash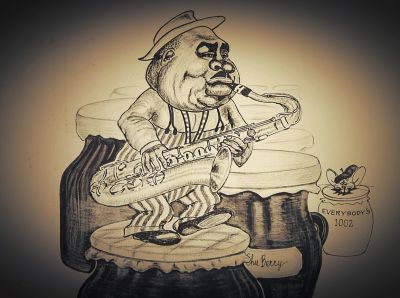 Chu Berry LP
Leon 'Chu' Berry (1908-1941), perhaps one of the most brilliant American tenor sax players, found interest in music at a young age.
His first instrument of choice, however, was the alto saxophone the art of which he perfected during the early days of his career with local bands in his native West Virginia. The majority of his artistic life was spent with iconic swing figures such as Benny Carter, Teddy Hill, and
Cab Calloway
.
What set Berry apart was his mastery of advanced harmony and smoothly-flowing solos in uptempo tunes which influenced many musicians of the next generation. One of them was the young genius Charlie Parker who later named his first son Leon, in Chu's honor, for whom he had great admiration.
By the time he hit his thirties, Berry already had made a name for himself as the leading tenor saxophone player of the jazz world. Had Berry's life not been cut short at the age of 33, he probably could have achieved the status of one of the most significant and recognized jazz saxophonists of the 20th century. Sadly, his name and influence has been obscured, both by time and many of his contemporaries and followers who went on to have a longer career.
In October 1941, Berry was on his way to a gig in Toronto with the members of the Cab Calloway Band when the tragic motor collision occurred near Conneaut Lake, Ohio. Three days later, on October 30, he passed away from injuries sustained in the accident.
Dan Morgenstern, director of the Institute of Jazz Studies at Rutgers University, says of Berry:
"Considering the brevity of 'Chu's' life, and that his recording career spans a mere decade, it is remarkable that his name continues to loom large in the annals of jazz. Had he lived, there is no doubt that he would be ensconced in the jazz pantheon alongside Coleman Hawkins and Lester Young. He was that good."
Listen to 'Chu' Berry's celestial Stardust: