Flute Sonata: canonical performance of Poulenc's best-known piece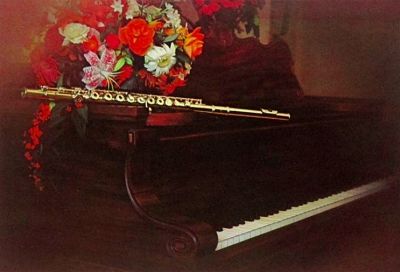 Jean-Pierre Rampal and Rober Veyron-Lacroix LP cover
The
Sonate pour flûte et piano
or
Flute Sonata
is among Francis Poulenc's best-known works, a French composer whose creative style was influenced by the leading 20th-century impressionists such as
Erik Satie
,
Claude Debussy
, and 
Maurice Ravel
. Published in 1957, the work had been commissioned by the American Library of Congress as a two-piano piece, although Poulenc himself chose the instrumentation for
flute
and
piano
.
Immediately after its premiere, Poulenc's composition gained immense popularity and has integrated itself as a vital fixture of the flute repertoire. Moreover, Flute Sonata is rightfully recognized as the most performed piece for flute and piano.
Flute Sonata
was first performed at the 1957 Strasbourg Music Festival with
Jean-Pierre Rampal
playing the flute and Poulenc himself accompanying on the piano. It is noteworthy that the piece was written specifically for Rampal, a generational flutist and a central figure in the modern revival of interest in the instrument.
It was supposed that Poulenc, together with Rampal, would give the American premiere of Flute Sonata as part of a joint tour, but this plan was not destined to come to fruition, leaving Rampal to perform the piece with his regular accompanist Robert Veyron-Lacroix.
Listen to Allegro malinconico from Sonate pour flûte et piano performed by Jean-Pierre Rampal and Francis Poulenc:
In 1959, the canonical version of Flute Sonata, performed by Rampal and Poulenc, was recorded to showcase the composer's original conception in regards to the tempo, dynamics, musical accents, and other nuances.