Hermann of Reichenau: disabled monk who boosted art and science 1000 years ago
Hermann of Reichenau in Kloster Schussenried fresco
A remarkable figure of the 11th century,
Hermann of Reichenau
was a chronicler, composer, poet, and scientist who compiled the crucial knowledge of his time into a clear and accessible source for his contemporaries. He is usually depicted in a wheelchair or on crutches due to the fact he suffered the same disease as
Stephen Hawking
, a brilliant physicist of our time.
Like the majority of early composers, Hermann's musical activity associated with religious aspects such as Christian hymn Salve Regina which is traditionally attributed to him. He also researched musical theory by transforming the Gregorian chant into a more developed and harmonious form.
Hermann of Reichenau (Hermann the Lame or Hermannus Contractus) was born in 1013 in a noble family from Upper Swabia. It is known that at the age of 7 he entered the cloister school at Reichenau, eventually becoming a monk there in 1043.
Located on a little island in the Lake Constance, the Benedictine monastery Reichenau was a center of art and science due to its rich manuscript collection and a well-equipped workshop. In 1048 Hermann became Abbot of the Monastery soon after the death of his teacher Abbot Berno.
Island Reichenau with a view to the Alps
: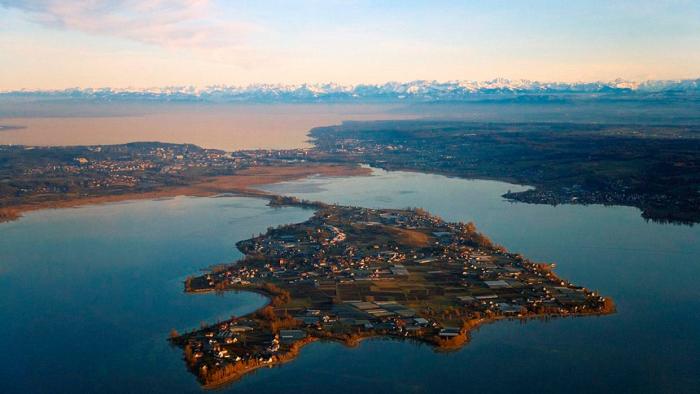 Hermann was disabled from childhood, having limited movement and speaking ability. Relying on the biography written by his disciple Berthold, medical researchers consider that amyotrophic lateral sclerosis or spinal muscular atrophy seems to be the most convincing diagnosis.
His contribution to the music theory was the work Opuscula musica that introduces an original system of notation of musical intervals and some basic knowledge of a medieval modal system. According to some sources, Hermann began to lose his sight over the years and, unable to work with manuscripts, he began to compose Christian hymns. However, Marian hymn Salve Regina, traditionally ascribed to him, is now considered to be an anonymous work by most musicologists.
As an essential component of the Compline service,
Salve Regina
has been set to music through the different
periods
by many composers, including Giovanni da Palestrina,
Josquin des Prez
,  Antonio Vivaldi, and
George Händel
.
Modern scholars consider that Hermann's works in the field of astronomy and mathematics are not so much original research but rather a compilation of the information of many disparate manuscripts in various languages, including Arabic and Greek, that Hermann systematized in Latin.
As a historian, he wrote a detailed chronicle from the birth of Christ to his own present day. His Chronicon ad annum 1054 no longer exists but it did survive long enough to be printed by J. Sichard at Basel in 1529.
Before he died in 1054, Hermann requested that his disciple, Berthold of Reichenau, take wax tablets on which his writings were recorded and have these made into manuscripts.