Humid Kolkata air sways with Nikhil Banerjee's sitar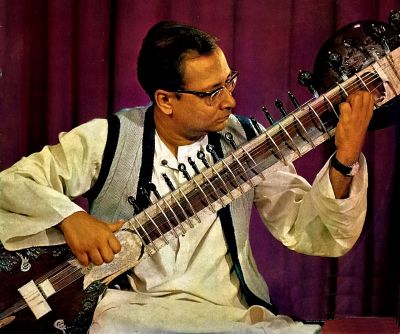 Nikhil Banerjee LP
Piece of Music:
Sohini raag
Nikhil Banerjee (1931–1986) was an Indian classical musician who emerged as one of the leading masters of the sitar.
In addition to winning the All-India sitar competition, he became the youngest musician employed by All-India Radio at the age of nine. Banerjee remained a featured radio performer for five years. 
After learning with several sitar gurus in his early years, Nikhil Banerjee was finally accepted as a student of the legendary Allauddin Khan. Banerjee fondly remembered one of his teacher's quirks:
"All-India Radio used to broadcast Western classical music. And every day from 9 till 11 he used to hear that, and he liked that Western classical music so much that he used to say: Just listen to this music, how much they have perfected a note! Each note correct and so much in tune!"
Following Khan's death, Banerjee went on to study with Khan's son,
Ali Akbar Khan
in Calcutta. He strove hard and made a huge effort to create his own style, as merely copying was never his idea of making music.
Banerjee shared his approach:
"Indian musicians have heard many other kinds of music, and have tried to take something from other music also, and they're still seeking. That's a very good point, I think. I like this. Unless you take some ideas from different cultures or different people, how can you really enrich your own ideas?"
Listen to Banerjee performing a peaceful Sohini raag which is associated with tranquil silent nights and pleasingly humid atmosphere:
This is how Banerjee explained his philosophy of live performing:
"Never approach a raga with a feeling of pride or vanity in your heart. Music grows out of the purest feelings of your soul and hence the mind of the musician, if only purified, can produce the vibration..."