Literary recital for fiddle and harmonium with British flavour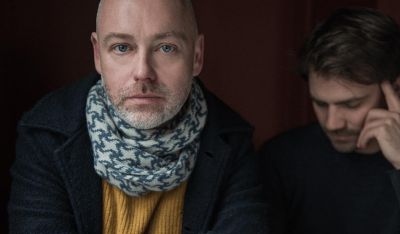 Aidan ORourke and Kit Downes
A rare duo that brings together two of Britain's foremost folk and jazz artists was formed by a Scottish fiddler Aidan O'Rourke and English keyboardist Kit Downes.
The keyboard player and composer Kit Downes has been a regular presence on the UK's jazz scene for the best part of the past decade playing piano, organ, and harmonium as a leader of his own groups and as a prolific collaborator with other artists across a broad range of genres.
Born in a musical family in Oban, Aidan O'Rourke ranks with the foremost Scottish musicians of his generation. Deeply rooted in tradition, his original compositions have won widespread acclaim for their innovative synthesis of diverse musical styles.
O'Rourke's collaboration with Downes began in 2016 as a musical partnership inspired by literature. The fiddler was given a copy of the book 365 Stories, written by the Scottish author James Robertson. He wrote a short story on every day of the year, with each story literally 365 words long. 
O'Rourke says:
"I loved the vivid moods the stories could stir up in an instant, like falling into a deep dream only to wake up a few minutes later. The atmosphere and pace of them seemed somehow musical – not unlike, in form and content, how I'd approach writing a tune."
Encouraged by the author, O'Rourke began writing on the 1st of March 2016 and by the 28th of February 2017 he had composed 365 tunes. The pieces were written at the exact moment he'd finished reading the day's story, whether at home or on the road with his various bands, often in airports or cafés, but sometimes in the open air or up a mountain. 
Watch Do people still do this? by Aidan O'Rourke & Kit Downes:
The deft brevity of James Robertson's stories inspired O'Rourke to keep his compositions succinct. He later enlisted Kit Downes to accompany him, mainly on harmonium, in the studio and on tour.
The 365 music is sparse and unusual, broadly following a Gaelic folk structure but written on the basis of modern classical composition. The combination of instruments turned out to be very successful through the treble sound of the fiddle shaded by the soft breathing of the harmonium.
It also evokes associations with organ music of
Bach
when the harmonium's lower register is turned on. Some keyboard techniques also resemble 
Terry Riley
's iconic experiments of the '70s.
Listen to Aidan O'Rourke & Kit Downes' 
Our Dancing Made Us Laugh
on 
SoundCloud
.