The low-end sound of Morphine trio cut short by Mark Sandman's tragic death while on a stage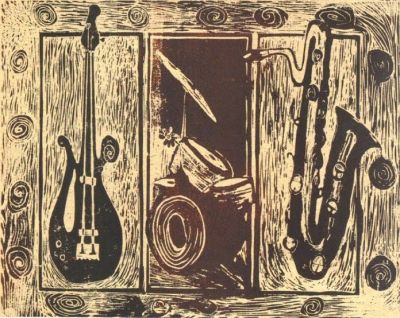 Morphine band
Twenty years have passed since
Mark Sandman
's tragic passing of a heart attack during a 1999 live performance with the band 
Morphine
,
but the time has only made the cultural significance of his work in the trio clearer, most evident in the unique arrangement of Sandman's distinctive voice with the unusual soundscape of slide
bass guitar
, baritone
sax
, and
drums
.
One of the aces the band held when it came to their sound was the timbre, or, rather, its limited range: none of the instruments, including Sandman's vocals, were allowed to rise above the baritone. It was this particular trait that led Mark Sandman to coin the term
low rock
—a rather apt epithet which singled out their inimitable style from the mostly guitar-oriented alternative
genre
.
Prior to his musical career, Sandman graduated from the University of Massachusetts and spent a near decade trying out several blue-collar jobs, including commercial fishing and taxi driving. Then, a chain of tragic events pushed him to rethink his life choices: both of his brothers died and later Sandman himself was seriously injured during the robbery of his cab. 
So Sandman picked up the bass guitar and began his experiments with its construction while also improving his sliding skills in bands like Treat Her Right and the Hypnosonics. The unique sound that would become the mark of Morphine was discovered by chance when Sandman asked his friend Dana Colley to play his late brother's baritone saxophone while Sandman joined in with his single-string slide bass. To their surprise, Sandman's low voice fit perfectly into this concept, and in 1989 the guys signed drummer Jerome Deupree and announced the creation of Morphine.
Watch French Fries With Pepper by Morphine:
Morphine's leisurely compositions, mostly derived from simple and repetitive bass figures, create a kind of trance, the atmospheric choice fully justified by the name of the trio which comes from Morpheus—the god of dreams in Ancient Greece. Sandman's lyrics were influenced by Jack Kerouac and other iconic figures of the Beat Generation, although he also sang an array of random silly texts with a deadpan expression, further enhancing the simple hypnotism of music.
Dana Colley should also be credited with a major contribution to the band's style who, by sometimes playing two saxophones at the same time, created a kind of dialogue between the sax and bass guitar. This incredible saxophone trick was first demonstrated by the legendary blind virtuoso
Rahsaan Roland Kirk
 whose career influenced many musicians like Ian Anderson of
Jethro Tull
.
Listen to Buena by Morphine:
Having released five albums in their ten-year run, Morphine saw little commercial success in the US but gained a significant audience in Europe and sustained that marginal popularity with frequent tours. Given their incredible sound, mainstream success seemed like just a matter of time, but Mark Sandman's tragic death during the performance at the festival in Italian Palestrina put an end to both their music output and the promotion of Morphine's earlier works.
Dana Colley recalls the terrible heat accompanying their concerts in those few days:
"The day before we were in Portugal, and it was 100 degrees [38℃] on stage. The next day in Italy it was as hot on stage. Mark was moving pretty slowly, but no one really thought much of it. We were going through our set, having a great time. About the seventh song in, I just noticed out of the corner of my eye, Mark was buckling at his knees. And the next thing I know, he had fallen over backward. And all I could think was, 'He's going to get back up.' I went to him, and his bass was booming, reverberating as he hit the ground. I tried to call him back, shouting at him to hang in there. But he died, right there."
Mark Sandman's early death at the age of 46 is often attributed to aortic damage from the stabbing sustained two decades ago when his taxi was robbed.