Vasant Rai's fretless guitar arrangements for Indian classical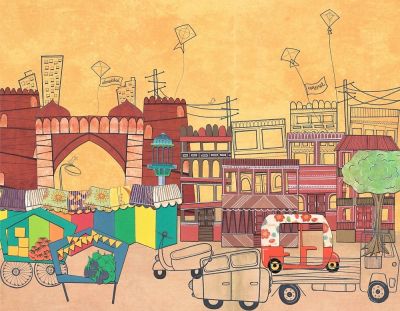 Ahmedabad, Gujarat by Redbubble
Piece of Music:
Darbari Kanada Raag
Vasant Rai (1942-1985) was one of the world's most acclaimed masters of Indian music. Born in Unjha, in the province of North Gujarat, he moved to the USA after receiving in-depth training from the legendary Indian music teacher.
He became a visiting professor of music at Columbia University and subsequently founded the Alam School of Indian Classical Music in New York, where he taught sarod, sitar, flute, violin, guitar, and vocals. 
Vasant began musical education at age seven while studying vocal music with his father and instrumental music with his elder brother. He became proficient in many instruments and appeared in his first concert at age 11.
Vasant recalls the experience:
"At that time I had the idea that one who knows many instruments is a good musician, so I practiced violin, sitar, flute, voice, dilruba, and tabla."
In 1958, thirteen years into his musical career, Vasant became the disciple of the incomparable guru
Allauddin Khan
and was the last student to receive the Indian maestro's complete musical training. 
"...I heard Allauddin Khan play sarod on the radio. I thought, "Oh! If only I could learn from him!" When I found out that he was the father of Ali Akbar Khan and the guru of Ravi Shankar, I thought it would be impossible for me to learn from such a great master."
Vasant studied and practised under the strict guidance of Allauddin Khan, residing in his house for eight years. 
"I finally got the address of Allauddin Khan, and I wrote to him for about five or six months before he replied saying, "Okay. You can come." On the first day of lessons, he asked me to play something. Afterward, he asked, "Whose donkey has taught you?"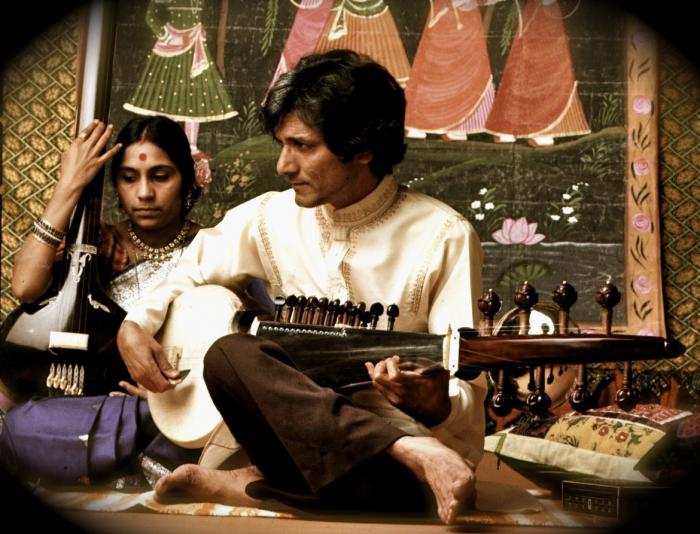 Towards the end of his life, Vasant experimented with the sur-guitar, a fretless sarod-guitar hybrid of his own invention:
"Guitar and sarod are both from the lute family. When I first tried guitar I knew I could play Indian music on it. I took off the fretboard and glued a metal fingerboard in its place."
Fortunately, the record of Vasant's live concert where he performed Darbari Kanada raag on this guitar has survived.
A night raga with origins in Carnatic music, Darbari Kanada was brought into North Indian music by Miyan Tansen, the legendary 16th-century composer in emperor Akbar's court. That raga belongs to the Asavari scale that is equivalent to the Western natural minor scale.
Vasant also explored new directions. He appeared with electric guitarists Carlos Santana and John McLaughlin and was perhaps best known for his remarkable series of East-West blend compositions and improvisations recorded with members of the group Oregon. 
Listen to Spring Wind recorded with Collin Walcott, Paul McCandless, Glen Moore and Dilip Naik:
"Music is like a universal language. Inspiration comes through many things. I like all good music from any part of the world. Each of my compositions is different-not jazz, not rock, not classical. They are a blend of many different things, but each has its own special quality."