Anthony Holborne: the master of Elizabethan consort music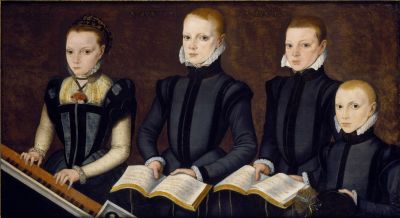 Unidentified Elizabethan Children Making Music by the Master of the Countess of Warwick
Antony Holborne
was an English Renaissance composer whose music for lute and
cittern
appeared in two important collections around 1600. He was described by
John Dowland
as a former Gentleman Usher to Queen Elizabeth, but otherwise little is known of his life. 
In 1597 his earliest known work, the Cittarn Schoole, was published in London. It contains 58 of his own compositions and is considered to be one of the most important sources of music for cittern — a popular stringed musical instrument in the 16th century. 
The preface indicates the pieces were composed over a number of years. He writes that the musical compositions are "untimely fruits of my youth, begotten in the cradle and infancy of my slender skill."
Listen to Holborne's
Pavan & Galliard
performed by
Julian Bream
:
Two years later, in 1599, Holborne published a consort music collection of 65 of his own compositions titled The Pavans, Galliards, Almains and other short Aeirs, both grave and light, in five parts, for Viols, Violins, or other Musicall Winde Instruments. 
It is one of the early prints of English consort music which size and quality of the part-writing make this publication a milestone in the development of English chamber music.
Holborne's publication made a tremendous splash, and the next year John Dowland dedicated one of his greatest songs I saw my Lady weepe "to the most famous, Anthony Holborne." That fact shows that Holborne must have been a highly respected musician.
Watch Holborne's Galliard 
The
Teares
of the Muses
performed by
Hespèrion XXI
:
Despite the obvious importance of Holborne's publications, in the New Grove Dictionary of Music and Musicians, it is noted:
"Although he [Holborne] cannot count among the major English composers of his time, he was a good artisan with a facility for producing well-written, attractive music of a sort that made him widely popular in his lifetime, but which was not of sufficient musical substance to maintain his reputation for long after his death."