Ferdinando Carulli: the Parisian sensation and décacorde guitar inventor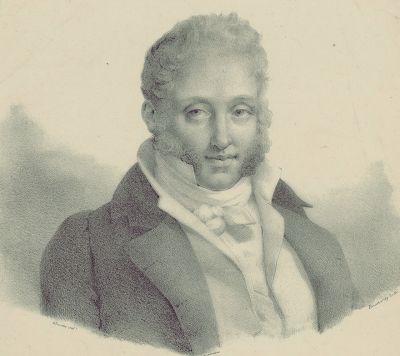 Ferdinando Carulli
Ferdinando Carulli
was among the most influential Italian guitarists whose music, textbooks, and instrument design efforts played a vital role in promoting the guitar during the transition period from
Сlassical
to
Romantic
. Originally trained as a cellist, the composer adapted some
cello
skills for the
classical guitar
by developing an incredible technique characterized by complex arpeggio figures,
glissando
, and harmonics.
Among 400 surviving works of Ferdinando Carulli, simple training pieces that are still used to teach guitarists can be found alongside the tricky compositions for the classic guitar and accompaniment of
flute
,
violins
,
piano
, or chamber orchestra. His guitar duets, now enjoying a healthy amount of attention, were popularized in the joint recordings of two greatest modern guitarists, 
Julian Bream
and
John Williams
.
Ferdinando Carulli was born in 1770 in Naples where he received some knowledge in musical theory from a priest who was an amateur musician. Having become a skilled cellist by the age of twenty, Carulli switched to the guitar, thinking the instrument to hold more potential beyond being a fashionable accompaniment for vocals.
Listen to Ferdinando Carulli's Sérénade in A Major performed by Julian Bream and John Williams:
Over time, Carulli's fresh guitar ideas, coupled with his excellent performing technique, allowed him to start a concert activity outside Apennine Peninsula. He toured until his decision to become a Parisian in 1808 after a series of recitals in the French capital.
Here is how François-Joseph Fétis, the famous musicologist of the time, describes the appearance of Ferdinando Carulli in the city of art:
"The artist arrived in Paris in April 1808, gave several concerts and had overwhelming success, soon becoming a homme à la mode, both as a virtuoso and as a teacher."
Although Carulli's works have been published before, it was in Paris that most of his music and theoretical guides for the classical guitar were published. Printed in 1810, Méthode complète pour guitare ou lyre made him the most popular guitar teacher in Paris. That said, he was forced to publish many of his pieces on his own due to publishers' fear of the lack of demand for such technically complex music.
Listen to Ferdinando Carulli's Duo No. 2 in G Major performed by Julian Bream and John Williams:
Throughout his career, Carulli has been looking for ways to improve guitar sound by implementing his innovative ideas in a fruitful collaboration with renowned French luthier
René François Lacôte
whose instruments were played by many brilliant guitarists of the Romantic period, including
Fernando Sor
and
Napoleon Coste
. Carulli and Lacôte not only worked on the classic six-string guitar, bringing its shape closer to the modern look, but also constructed instruments with a large number of strings such as a ten-string
décacorde
for which Carulli also wrote a textbook.
Until the end of his life, Carulli remained a highly respected guitarist and teacher known far beyond the city of Paris. He died in 1841.