Pannalal Ghosh: magic flute came to the Indian classics from the river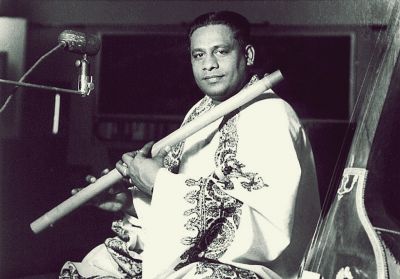 Pannalal Ghosh by Abhiptr
Piece of Music:
Bhairavi Thumri raag
Born in Barisal, East Bengal (now Bangladesh) Pannalal Ghosh (1911–1960), was an Indian composer and virtuoso of the bamboo flute called bansuri.
Ghosh received his initial training in music from his father, learning to play the sitar, although he inherited his love of the bansuri from his grandfather. 
One episode in Ghosh's childhood influenced him to take up the flute as a primary instrument. The family's ancestral house was on the banks of the Kirtankhola river. At the age of nine, while swimming in the river one day, Ghosh found a long bamboo stick that was half-flute and half walking stick. The flute part of the stick was longer than a traditional flute but Ghosh started to practice on it.
Later, Ghosh experimented with various materials including metal and other types of wood but decided bamboo was the most suitable for a larger instrument. He finally settled on a bansuri which was 32 inches long. As a flute of this size was formerly unknown, a rumour arose that Pannalal had had surgery to cut the webbing between his fingers to facilitate the large span required to cover the finger holes of the instrument.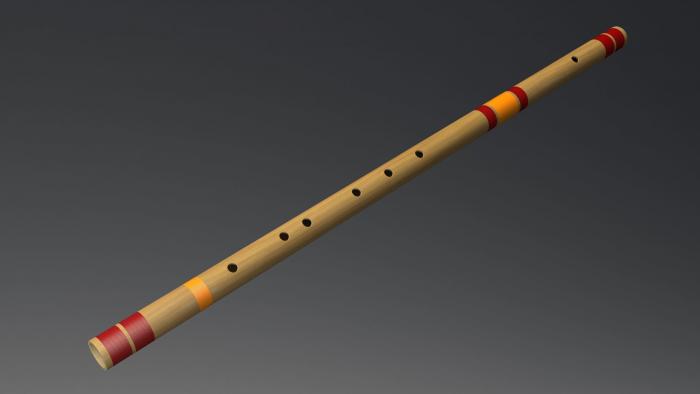 The major periods of his life are connected to the three largest Indian cities. After the beginning of protest movements in his homeland, he was forced to move to Calcutta where he worked as a music director of a dance troupe in the '30s. 
In the '40s, Pannalal moved to Bombay where he joined the Bombay Talkies film studio and wrote music for quite a few popular films in collaboration with composer Anil Biswas.
Pannalal first met the legendary
Allauddin Khan
when the latter came to Bombay with his disciple
Ravi Shankar
. Initially, when Pannalal asked Khan to teach him Khan replied, "You are already well-known, you don't need to study more."
Not satisfied, Ghosh implored the teacher to mentor him so that he could know "authentic music." Finally, his lifelong yearning to learn music from a true guru was fulfilled when Allauddin Khan accepted Pannalal as his disciple in 1947.
Listen to Pannalal Ghosh's incredible performance of Bhairavi Thumri raag, one of the oldest Indian ragas dubbed 'the queen of melodies':
Pannalal continued composing and recording music for films but later began to find film work distasteful. Fortunately, he didn't stay unemployed for too long: his impressive rendition of Raga Darbari Kanada on AIR Delhi National Programme broadcast led him to the position of composer-conductor of the Indian National Orchestra which he accepted in 1956. 
He held the post and maintained his devotion to the interpretation of classical music on the bamboo flute until his untimely and sudden death due to a heart attack at the age of 48 in New Delhi.