Boogie with Stu: origins of Led Zeppelin's song featuring mandolin solo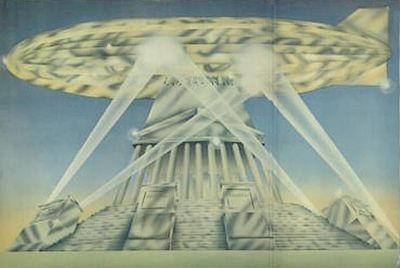 Led Zeppelin's LP cover
Boogie with Stu
is a remarkable Led Zeppelin track originally recorded for the 1971 release of their fourth album, but only included on the double 1975
Physical Graffiti
. The song title mentions
Ian Andrew Robert Stewart
—a Scottish keyboardist and co-founder of the
Rolling Stones
—who performed the piano part on this recording.
Led Zeppelin's vocalist
Robert Plant
revealed in an interview that
Boogie with Stu
came out of a jam session with him on the acoustic guitar, while the guitarist.
Jimmy Page
was focused on his exceptional
mandolin
solo. Page, in turn, added that the "jam turned into
Boogie With Stu
, which was obviously a variation on
Ooh My Head
by the late
Ritchie Valens
, itself a variation of
Little Richard
's
Ooh My Soul
."
Page also clarified the reason for including Valens' mother in the song credits: "What we tried to do was give Ritchie's mother credit because we heard she never received any royalties from any of her son's hits, and Robert did lean on that lyric a bit." Indeed, the Boogie With Stu lyrics show that the refrain "I don't want no tutti-frutti no lollipop, come on baby, just rock, rock, rock" is definitely borrowed from Ooh My Head.
Listen to Boogie with Stu (Remaster) by Led Zeppelin:
Compositionally,
Boogie with Stu
follows a very simple three-chord formula representing the
Ionian mode
. In the harmonic analysis of the songs' chord chains, the scale degrees (denoted with Roman numerals) show the only chord progression in the slightly lowered key of A major:
A–D–A–E7–A
or
I–IV–I–V–I
.
The progression involves all the three primary major chords of the Ionian mode and exhibits two essential musical turnarounds, namely the
plagal
(
IV–I
) and
authentic
cadence (
V–I
). Perhaps the key of A major was chosen as the easiest one for playing these three primary major chords on the guitar due to Plant's weak guitar skill.
It should be noted that the harmonic progression of Boogie with Stu is a bit simplified compared to the songs Page mentioned as the jam session's main inspiration:
E–A–E–B–A–E–B–E or I–IV–I–V–IV–I–V–I for Ritchie Valens' Ooh My Head;
F–B♭–F–C–B♭–F–C–F or I–IV–I–V–IV–I–V–I for Little Richard's Oh My Soul.
Discover more songs composed in Ionian major mode and check out their harmonic analysis in the following articles: