Súbeme la Radio: meaning and harmony behind the hot dance hit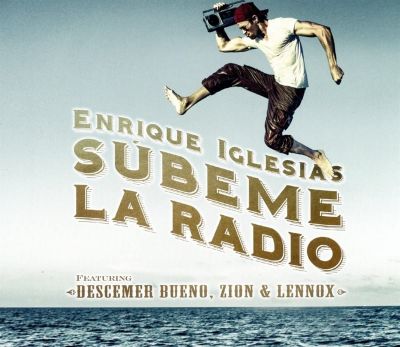 Súbeme la Radio single cover
Súbeme la Radio
is a 2017 Latin dance track recorded by Spanish singer
Enrique Iglesias
in collaboration with Cuban musician
Descemer Bueno
and Puerto Rican duo
Zion & Lennox
. In addition to the version featured in the music video, the release includes seven more alternative remixes featuring a dozen diverse artists from Latin America, Africa, Europe, and the US.
Almost echoing the phenomenal success of Despacito and Échame la Culpa—the biggest hits of 2017—Súbeme la Radio stormed global charts and reached over a billion views on YouTube. All three songs are similar to each other in more ways than simply existing in the same genre—after all, they share the same harmonic progression consisting of just four chords.
The Súbeme La Radio lyrics (meaning Turn Up the Radio) depict a familiar scene of heartache in which the narrator coaxes his lover into giving him another chance. The titular request to crank up the radio and bring alcohol makes up the chorus appearing eight times throughout the song.
Watch Enrique Iglesias' Súbeme la Radio (Official Video) ft. Descemer Bueno, Zion & Lennox:
In the harmonic analysis of the 
Súbeme La Radio 
chord chains, the scale degrees (denoted with Roman numerals) show the following progressions in the key of A minor: 
Am–F–C–G
 or
i–VI–III–VII
. This simple chord chain is looped throughout all song sections, revealing a common songwriting technique in which the tonic minor chord rooted in the
first
scale degree precedes the chain composed of all three major chords of the
Aeolian mode
. Such progressions naturally generate a distinct major mood despite being written in a minor mode.
It should be noted that the 
i–VI–III–VII
 progression itself is a rather clichéd formula used in many Latino pop songs including 
C'est la vie
 written by the Algerian folk musician 
Khaled
 as well as its Spanish cover 
Vivir Mi Vida
 released by 
Marc Anthony
. Moreover, even modern classical composers do not hesitate to routinely loop this four-chord sequence as described in our article on 
the critical simplicity of Einaudi's best-known piece
.
Discover more songs composed in Aeolian minor mode and check out their harmonic analysis in the following articles: