Yakety Yak: teenager's answer to household chores in a hit song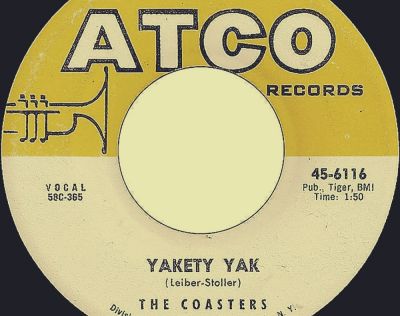 Yakety Yak by the Coasters
Yakety Yak
is one of the best-known songs written by American songwriting partners
Jerome Leiber
and
Michael Stoller
whose extraordinary music production skills have earned them a dozen awards and seventy major hits such as
Hound Dog
,
Stand By Me
, and
Kansas City
. Released in 1958 by rhythm and blues quartet
the Coasters
,
Yakety Yak
became the most successful track of the band's entire career.
Written in a humorous vein, the song's lyrics contain a Cinderella-like list of household chores for a teenager who snaps at the end of each verse with the slang phrase "Yakety Yak" meaning aimless, pointless talk that goes on and on.
An intense to-do list is laid out in the first three lines of the verses and is summed up by the fourth line with threats like "you ain't gonna rock and roll no more" and "you don't go out Friday night". The teenager barely manages to insert their "Yakety Yak" after the verse as they are interrupted by the categorical answer "don't talk back" sung in the bass register.
Listen to Yakety Yak by the Coasters:
Discover more songs composed in Ionian major mode and check out their harmonic analysis in the following articles: