The surviving pearl of Mademoiselle Paradis, contemporary of Mozart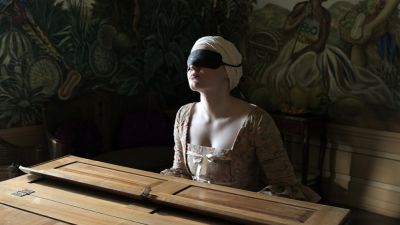 Mademoiselle Paradis film 2017
Maria Theresia von Paradis
was a contemporary of
Mozart
and Haydn. She achieved significant glory as both a composer and performer, which was extraordinary for any woman living in the 18th century. To complicate matters, by the age of three Maria went completely blind.
The process of composition for Paradis was difficult, but she was aided by use of a special board developed by Johann Riedinger, who served as librettist for some of her works. She performed all over Europe as a pianist, organist and singer.
Mozart's Piano Concerto 18 was written for her, however there are some discussions as to which of Mozart's concertos was composed for Paradis. 
Maria Theresia von Paradis composed staged works, piano sonatas, cantatas, and songs. Unfortunately, many of her pieces have been lost except for the delightful Sicilienne.
In this performance, seventeen-year-old
Jacqueline du Pré
plays the cello version of
Sicilienne
:
Listen to Arthur Balsam and Nathan Milstein perform Sicilienne:
Sweet transcription for flute and harp with Kathryn Moorhead and Megan Reeve on
Soundcloud
.